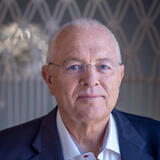 Professor Alwyn Louw
Vice-Chancellor of Torrens University Australia, The Academic Director of Think Education, and the Chairman of the Academic Board of Media Design School New Zealand
Professor Louw's recent appointment as Vice-Chancellor of Torrens Australia follows a distinguished 20-year career in senior academic leadership and management experience.
This includes serving as President of the University and Academic President at Monash South Africa, Deputy Vice-Chancellor, Academic and Research at Vaal University of Technology (South Africa) and Vice Principal at the University of South Africa. He has extensive private sector experience including serving as Chair and Director of South Africa Private Higher Education, Chair of Board of Directors for Africa, Operation Mobilisation and President of South African Chambers of Commerce and Industry.

Professor Louw was born in Grootfontein, Namibia. He studied Sociology (BA Hons and Masters) at the University of the Free State (South Africa) and obtained his PhD in Sociology from Vista University.