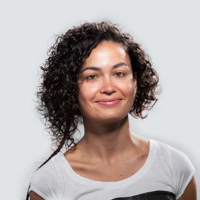 Aslihan Tece Bayrak
Programme Coordinator - Bachelor of Creative TechnologiesSoftware Engineering
Tece is an aspiring games scholar who has extensive experience in teaching game development. Having a background in software development, Tece sees gameplay programming as art and claims that the triangle is the most sophisticated shape of all.
Tece fundamentally believes in the power of games for change and thinks there is so much to be achieved with and above entertainment. Although there are some rumours about her developing software for rockets prior to her teaching career, she was a software engineer developing command and control systems for navy ships in the veins of Starfleet.

With a background in software development for defence industry, and having planned several production pipelines for students, she has experience in various scales of software projects, development and management methods. She has a BSc & MSc in computer engineering and is currently a PhD candidate in computer science. Her area of interest includes game studies, pervasive games, design methodologies, game development, real time systems and HCI.