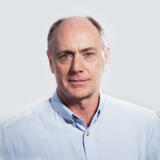 Dr. Matthew Stevens
Programme Coordinator - Master of Digital Transformation
Matt has over 10 years teaching experience in interactive and web design and development. His research expertise is in nomadic agile forms of learning within creative technologies domains based on a pragmatist-enactivist onto-epistemology of situated dynamical knowing in lived experience.
He has a particular interest in activist design for ecological sustainabilty and socio-economic equity in response to the current global climate crisis and ecological collapse. Prior to teaching at Media Design School, Matt worked as web designer and developer and before that ran his own independent art-house cinema and film distribution company. He is currently completing a PhD at Auckland University of Technology.

...

Research Interests:

Holistic ecological philosophy including Pragmatism, Enactivism, Activity Theory, Agential Realism, Ecological Psychology, Existential Phenomenology and Hermeneutic Phenomenology.
Integrated participatory learning-practice pedagogical approaches.
Design for ecological and social activism.
Philosophy and media as cultural criticism and cultural politics.

...

Research/Industry Projects:

Matt's current PhD Thesis, 'Dissolving the Walls', explores the possibilities and opportunities for nomadic agile forms of learning across and beyond the boundaries of educational institutions and qualification frameworks within creative technologies domains. Viewed through a pragmatist-enactivist lens, knowing and learning emerge from practice situations that are dynamically co-constituted by the participating learners, teachers, practitioners and workplaces as shared undertakings.

...

Recent Research Outputs:

Stevens, M. (2018, August). Dissolving the walls: Nomadic agile learning in creative technologies domains. Paper presented at the Auckland University of Technology Postgraduate Research Symposium, Auckland, New Zealand.

Stevens, M. (2017, November). Dissolving the walls: Learning across the boundaries of tertiary institutions and work. Session presented at the 13th Tertiary Education Research in New Zealand Conference, Massey University, Palmerston North, New Zealand.

Stevens, M. (2013). A proposal for an agile approach to the teaching and learning of creative technologies (Honours dissertation). Auckland University of Technology, Auckland, New Zealand.