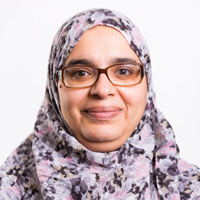 Dr. Samah Hassan
Senior Lecturer - Bachelor of Creative Technologies
Samah gained her PhD in Computer Engineering from Ain shams University, Cairo, Egypt. She also has a Certificate in Tertiary Teaching and Curriculum design from the Auckland University of Technology.
Samah brings to Media Design School more than five years of teaching experience, during which she has taught different computer courses at different levels.

She also possesses five years of industry experience, where she worked as an R&D engineer, in addition to almost ten years of research experience in different computer disciplines.