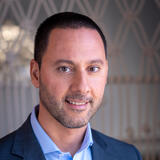 Hugo Contente
Vice President, People and Talent
Hugo Contente formally joined Torrens University in February 2018, and brings a great deal of experience having previously led Student Services and Human Resources teams across Europe. Along with a great sense of humour, Hugo brings a naturally collaborative approach, a deep commitment to our mission, and an appreciation of balancing business needs with student outcomes.
Prior to joining Torrens Global Education in 2011 as HR Director for Portugal, Hugo forged a successful career in HR consultancy, focused on a range of training and development initiatives. In 2014 Hugo moved to Madrid, where he led the Student Services Department for Spain and Portugal, before becoming Vice President, Human Resources in 2016. In early 2017, Hugo transitioned to the role of Organisational and Talent Development Director for Torrens Global Education across Europe, Middle East, Africa and the Asia Pacific.

Hugo holds a degree in psychology from Universidade de Lisboa, and an MBA from AESE / IESE – one of the leading business schools in Portugal.