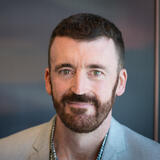 As General Manager Design and Technology for LANZ, Paul heads up Media Design School, as well as leading Laureate's Design faculty in Australia. With his extensive background in the fields of design and education, Paul oversees the school's operations and strategic direction.
Paul brings to the role 23 years of industry, academic, business, and leadership experience in the design and creative technology sectors. He was Director of Product Innovation at Laureate Australia and New Zealand for the three years, responsible for implementing product strategy and driving best practice in the online/digital learning experience.


Prior to joining Laureate, Paul was Programme Leader, Digital Media, at AUT for nine years, having previously worked as a broadcast graphic designer and art director for a range of major television networks across New Zealand. His career in education also encompasses international experience, holding positions at The University of London and Birkbeck College in the UK.