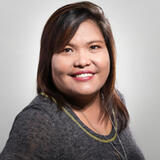 Flora's main focus is the on-going welfare and well-being of Media Design School students.
Flora is a professionally qualified counsellor and a member of New Zealand Association of Counsellors. She holds a Bachelor's degree in Psychology, Master of Arts in Counselling Psychology and has completed a Postgraduate course in Counselling.

She has worked in the area of Counselling Psychology for 10 years and has experience in research, teaching and social work. Flora has extensive hands-on experience in counselling, life coaching, enrolment processes and pastoral care.

As a counsellor, she enjoys providing authentic, compassionate support as she journeys with the students through a variety of challenges they face such as depression, anxiety, grief, family issues, loss of motivation, relationship issues, setting goals, time management, homesickness and identity issues.

She believes that with the right tools and emphatic support, students will achieve success in their studies.