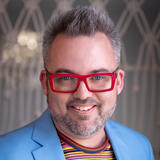 Bryce Ives
Vice President Communications & Public Affairs
Bryce Ives was appointed to the role of Vice President Communications & Public Affairs in February 2019. A passionate and creative storyteller and courageous community leader, Bryce has more than 16 years of industry, educational, business and leadership experience.
Bryce has an impeccable reputation as a facilitator and agent of change, with an abiding connection to community and industry engagement. Before joining Torrens University, Bryce has worked as a consultant, facilitator, creative director, broadcaster, media producer, artistic director, and community development specialist. He has a longstanding reputation as an advocate and champion of young Australians, particularly in rural and regional Australia, through his twelve-year involvement as Chief Facilitator of the ABC and Australian Government initiative Heywire, and in his integral role in the start-up phase of SYN Youth Media, Australia's largest youth media organisation.

Bryce has been a trusted consultant and advisor to some of Australia's leading organisations including the ABC, the National Farmers Federation, Telstra, VicHealth, AgriFutures Australia, the Foundation for Young Australians, Creative Victoria, Music Victoria, and internationally with the British Broadcasting Corporation. He has also taught at leading institutions, such as the Victorian College of the Arts, the Ballarat Arts Academy, the Monash University Academy of Performing Arts, and the Melbourne University Journalism School.

Bryce holds a Master of Fine Arts from the National Institute of Dramatic Art.