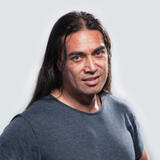 Ali Cowley
Lecturer - Bachelor of Creative Technologies
Ali Cowley (Samoan) is an Auckland based animator, Illustrator and director. He has worked in the industry for over 20 years and has directed music videos and short animated films for corporate videos, developed content for the Play Kindly app and specialises in storyboarding and production design for animation and film.
Ali was an animation director on prime time animated show Bro'Town for four seasons and is currently working as an Art Tutor at Media Design School in the Gaming Department and is on the Pasifika Committee called "Vaega" as a Mentor to the Polynesian students. At his work, he's currently researching ways to engage his Polynesian Community with new media as a career choice. He also successfully curated an art exhibition featuring Pasifika/Maori MDS Alumni in his home town of Mangere.

Ali was a participant in Script to Screen's South Shorts Screenwriting initiative and has written a short film script which he is hoping to make in the near future. He was also a participant in the Loading Docs 2019 'Power' collection and Directed Meet Munch Jr his first short documentary.